Workshop Held in Delhi:
Excellence Enhancement Centre had organized its first technical workshop on 29-08-2012 at New Delhi. The workshop was inaugurated by Shri P. Uma Shankar Secretary Govt. of India, Ministry of Power.
Secretary, Power also released the first News Letter of EEC. A copy of the same is enclosed. The workshop covered the topic of PAT scheme & how EEC can facilitate the implementation of PAT scheme. Presentation on few success stories was also made by CenPEEP and Dhanu Power Station on efficiency improvement.
The following topics were covered:
1. Introduction to Excellence Enhancement Centre for Indian Power sector.
2. Facilitation of PAT implementation by EEC (PAT targets, Strategic action, Actions for PAT targets).
3. Thermal Power Plant-- Perform Achieve Trade (Thermal Power Plants in PAT – I, Thermal Power Plant Groups under
PAT Scheme, Target Setting in TPPs).
4. European Business and Technology Centre
5. Success stories: Efficiency Improvement in Power plants, NTPC Overview- Systems, Technologies & Practices).
6. Efficiency Improvement at Dhanu Thermal Power Station (Performance Monitoring, Performance Review,
Data Management and control).
7. Performance enhancement of old thermal power stations using software tools
8. Audit the plant using off line modeling.
9. EBSILON Design Model- Online systems.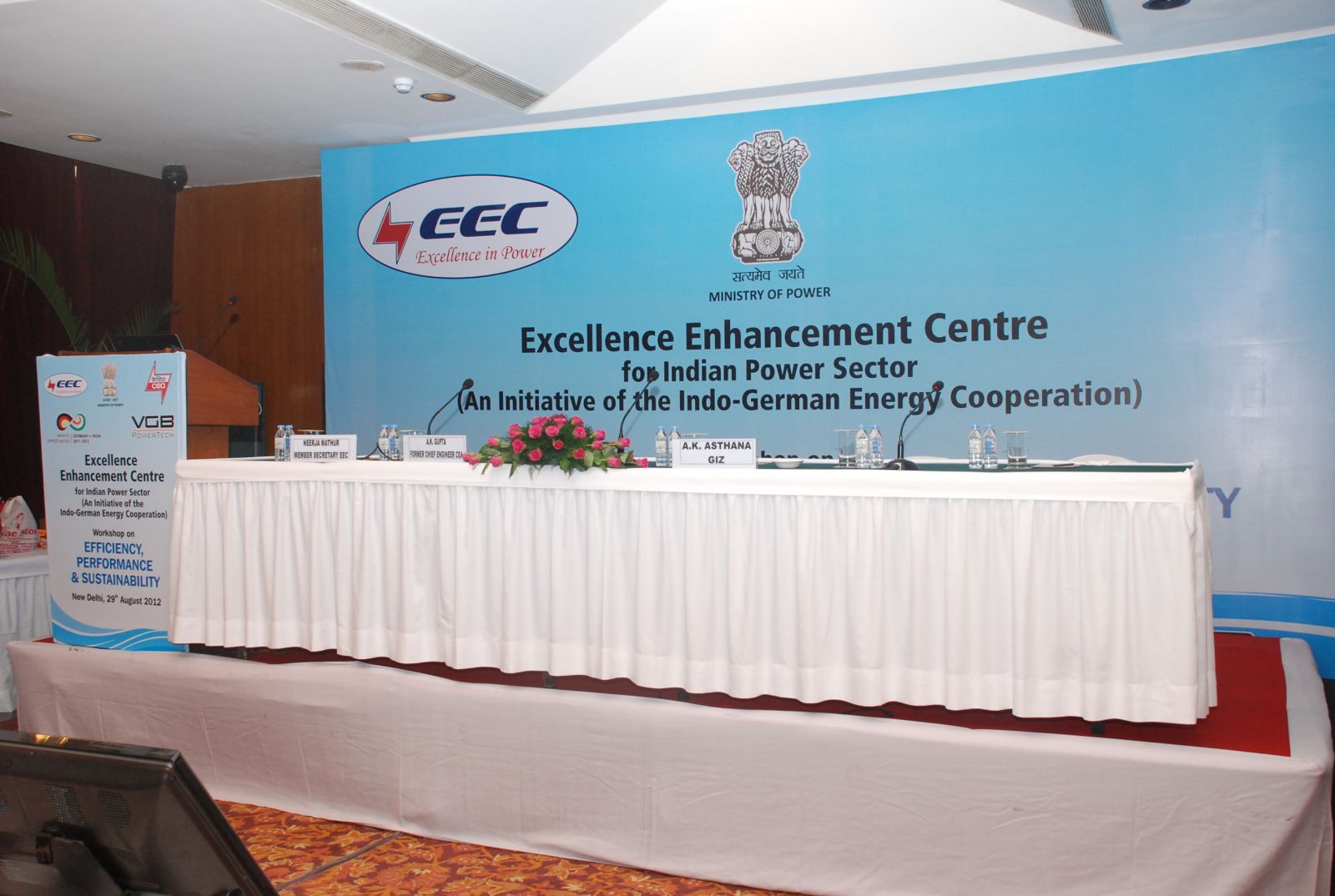 There is a participation of 130 delegates from various organisations.
Following are the organisations who participated in the conference:
| | |
| --- | --- |
| State Power Utilities | NTPC |
| BHEL | KfW |
| Adani Power | Siemens |
| Jindal Steel & Power | CPRI |
| NPTI | CERC |
| Reliance Power | Lanco |
| Price Waterhouse Coopers | WAPCOS Ltd |
| Deloitte | EBTC |
| DVC | IPP |
| Kaefer Punj Lloyd Ltd | Other private suppliers and manufacturers |
EEC sincerely thanks to all for their support and cooperation to make the workshop a big success.
Presentations Related To The Workshop
> Excellence Enhancement Centre for Indian Power sector - CEA
> Efficiency Improvement at Dhanu Thermal Power Station
> Facilitation of PAT Implementation by EEC - Mr. A.K. Gupta, EEC
> Performance Enhancement of Old Thermal Power Stations using Software Tools - STEAG
> Success stories:Efficiency Improvement in Power plants - CenPEEP (NTPC)
> Perform Achieve Trade - Mr. A.K. Asthana, BEE
> European Business and Technology Centre