Workshop Held in Kolkata:
EEC had also organized two regional workshops one in Kolkata on 29th September 2012, the workshop is inaugurated by Shri Malay Kumar De, IAS , Principal Secretary, Department of Power & Non-Conventional Energy Sources , Govt. of West Bengal .
Shri AS Bakshi, Chairperson, CEA & Shri R.N. Sen Chairman, also address the participants.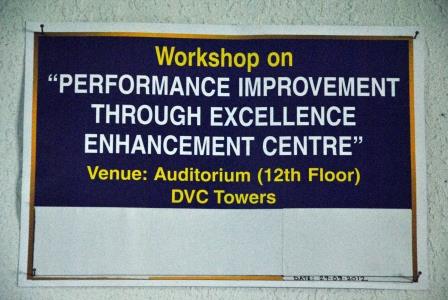 The workshop was attended by various organisations including state power utilities, NTPC, BHEL, Tata Power ( Maithon Power Ltd.), CESE WBPGCL, Dishergarh Power Supply Company Ltd. STEAG, EBTC, DVC, IPPs and manufacturers.
The workshop focus on the performance improvement and the presentation were made on the following topics,
Excellence Enhancement Centre for Indian Power sector – MS, EEC
Facilitation of PAT implementation by EEC.---Head, EEC..
Perform Achieve and Trade Scheme- Thermal Power Plant---CEA
Activities adopted for Performance Improvement—Budge- Budge Generating Company- CESC
Innovations and Best Practices—Maithon Power Project- TATA power
M/s ROCKWOOL India
Presentations Related To The Workshop
> Introduction to EEC - Mrs. Neerja Mathur, CEA
> EECs Support for Indian Power Sector - Mr. A.K. Gupta, EEC
> Budge Budge Generating Station Presentation
> Perform Achieve and Trade Scheme - Mr. Praveen Gupta, CEA
> Innovations and Best Practices - TATA Power
> Power Plant Summit 2012 - Mr. Deepak Aggarwal, ROCKWOOL India