Study Title:
"Combustion Optimisation- To improve the Performance of Combustion Systems for 200/210 MW units through use of latest technologies."
Combustion Optimization – Introduction and Justification:
Combustion optimization consists of a delicate balance between fuel and air for the furnace. In order to have good combustion, it is important to have an uninterrupted flow of properly sized fuel delivered to the furnace and controlled amount of combustion air.
These combustion systems represent a good possibility for a significant boiler optimization, higher boiler availability, and reduced maintenance. The study and the likely demonstration project would be carried out in association with reputed technology providers and technical support from VGB, Germany and its member organizations.
Operating a boiler that is not optimized, or tuned, can
fallout of pulverized fuel, blocked pipes, or high mill pressure
erosion of mill, pipes and burner components
poor burner ignition, and flame instability and dislocation
incorrect primary and secondary air-to-fuel ratios
increased nitrous oxide production
increased levels of unburnt carbon
increased excess-air requirements
increased erosion between furnace and boiler exit
reduced boiler efficiency
localised furnace problems that can include inappropriate superheater and reheater temperature profiles,
increased slagging and greater water-wall wastage.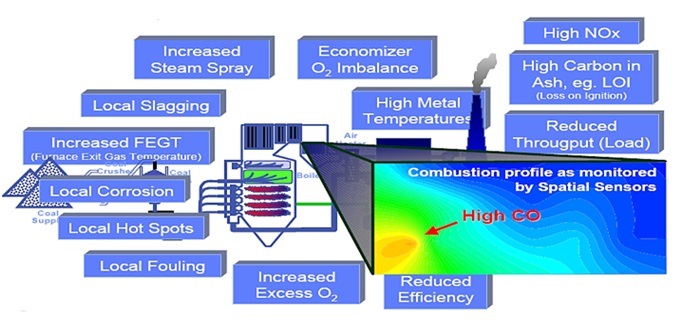 Poor combustion results in many performance issues.
Features and Benefits of Combustion Optimization:
Improves heat rate up to 1.5%
Reduces NOx and CO emissions levels
Reduces plant maintenance costs
Analyzes and manages flame temperatures
Maximizes staged combustion efficiency
Controls and reduces measured opacity levels
Enhanced and balanced combustion
Significant improvements in boiler slagging
Better CO distribution in boiler
Supplementary O2 reduction based on the balanced combustion
Better centralization of the fireball
Staged combustion achieved emission reductions
The appropriate use of real-time combustion optimization technology in a coal-fired plant can definitively improve combustion and heat rate while reducing emissions and the potential for lost generation. If the technology is properly designed and applied, plant operators and engineers can make appropriate adjustments to improve unit performance with minimal training and eliminating the need for costly mechanical changes.